Step 1: Locate the Movies, Photos, and Audio Files to Use in
This Tutorial
Before you start your project, make sure you know which movies, photos, and audio
files you want to use in your project and check that they're in the right format for iDVD.
For this tutorial, ideally you should have access to one movie, several photos, and a few
audio files.
These items are automatically in the proper format for use in iDVD:
Â
Movies created in iMovie
To use an iMovie movie in iDVD, you must first choose Share > Media Browser in
iMovie. Specify which size of movie to share, and then click Publish. Large is the
suggested size for use in iDVD. If your camcorder does not shoot high-definition
video, however, the large size option may not be available.
The shared movie is then automatically available in the Movies pane of iDVD.
Important:
Video footage must be recorded using 16-bit audio in order to be burned
correctly to a disc using iDVD. Check your camera's manual for instructions about
setting the audio bit rate and depth.
Â
Music files in your iTunes library
Â
Photos in your iPhoto library
If you have other files whose formats you are unsure about, search for "file formats" in
iDVD Help for more information.
Chapter 2
Learn iDVD
7
In the Media pane of iDVD, shown below, you can access songs and photos in your
iTunes and iPhoto libraries. If you have audio and image files in folders outside of
iTunes and iPhoto, you can drag those folders to the list of photos or audio files in the
Media pane after you open a project in iDVD.
Movies stored in the Movies folder on your hard disk appear automatically in the Media
pane. You can also drag movies from other folders on your hard disk to the movies list.
In iDVD preferences, you can specify other folders whose contents you want iDVD to
show automatically in the Media pane. Movies stored in these folders are automatically
added to the movies list in the Media pane. For instructions about how to do this,
search for "add media" in iDVD Help.
Click these buttons
to access specific
media files.
Click the Media button
to access your movies,
photos, and music.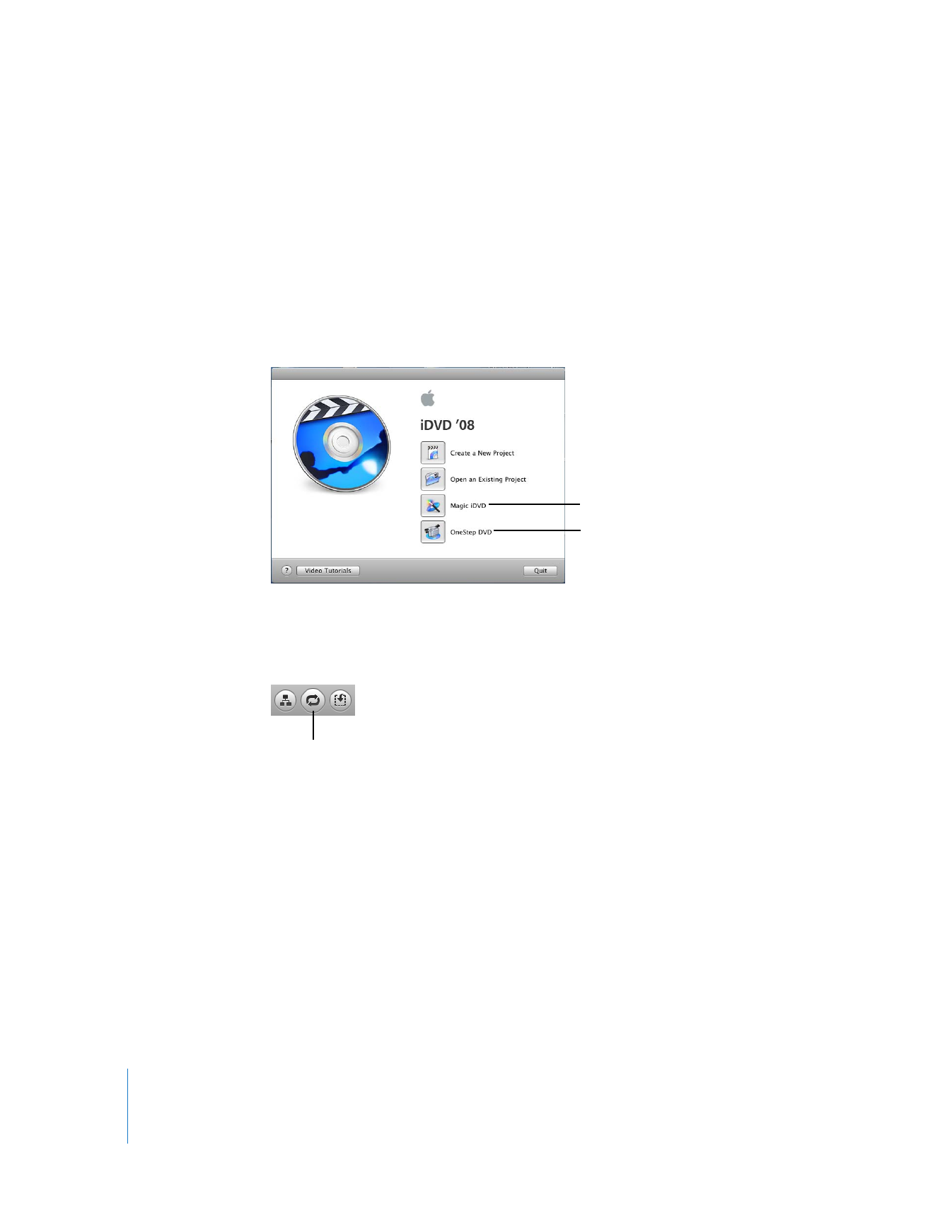 8
Chapter 2
Learn iDVD